Shimano Trout One NS
The Shimano Trout One NS (Native Special) S53UL is a very nice, very light, very capable rod designed for stream trout.  Shimano designed the Trout One NS  with a fast taper, giving the rod a firm midsection and a relatively soft tip. The firm midsection gives you the ability to work lures up to 7 grams (1/4 ounce) and the relatively soft tip will allows the rod to cast a 1 gram lure (1/32 oz).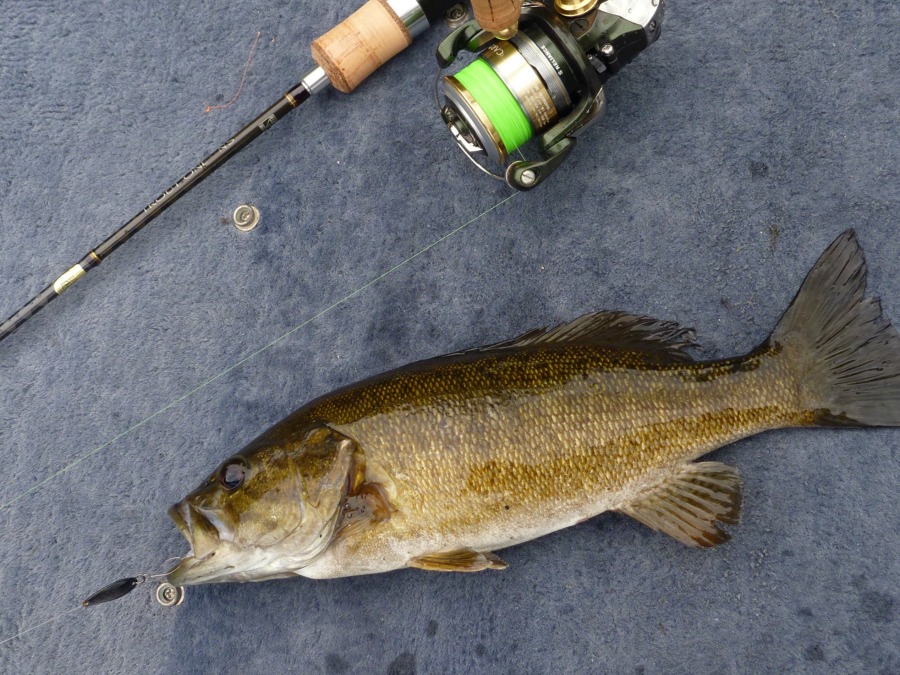 The Shimano Trout One NS S53UL will cast a Daiwa .8g Vega spoon reasonably well.
Although the rod will cast the Daiwa .8 gram Vega spoons far enough to catch fish, the 1.2 and 1.8 gram Daiwa Lupin spoons cast very nicely indeed, enough better than the Vega that I think they would be my choice for a smaller sized spoon.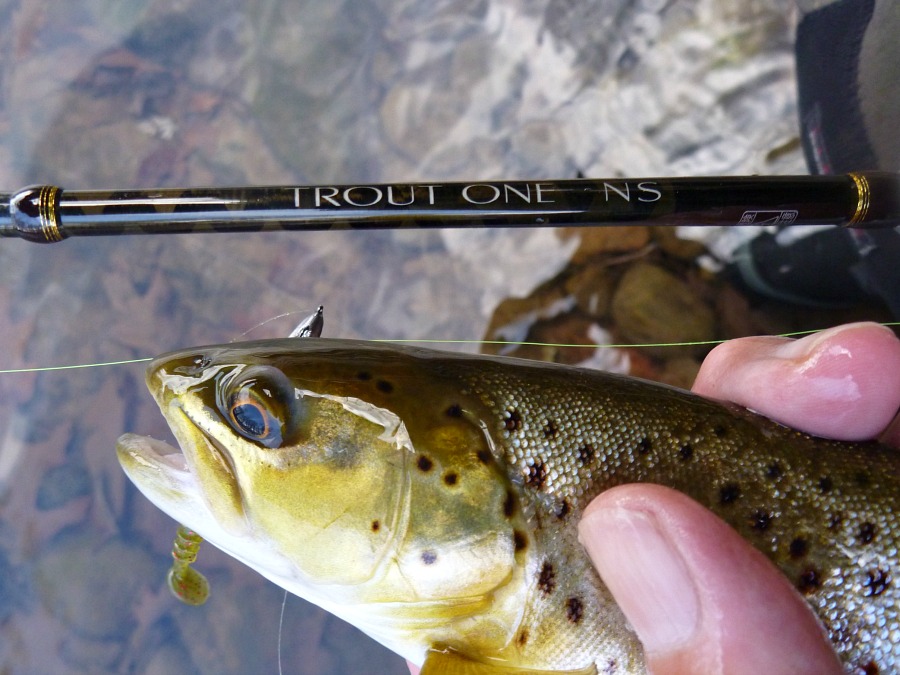 Shimano Trout One NS
The C'ultiva JH-85 jigheads with either a Pinworm or a Ring Kick Tail Worm cast extremely well and can be worked more slowly than a spoon. If the bottom is relatively smooth, they can be hopped across the bottom to mimic a sculpin or fleeing crayfish.

It casts the 3g Smith Drop Diamond spoons like a bullet.
Heavier lures, like the 2.5 g Daiwa Crusader spoons or the 3g Smith Drop Diamond and Edge Diamond spoons cast like bullets. Minnow lures are considerably more wind resistant than spoons, but I found that the Shimano Trout One NS S53UL can still cast them nicely. The "heavy sinking minnows" like the Daiwa Silver Creek minnow or the Duo Ryuki Spearhead do even better.

The firm midsection does more than just allow you to cast heavier lures. It also allows you to land heavier fish. I wish I could show you a photo of a recent fish I caught with the Shimano Trout One NS S53UL. It barely fit in my Nomad Mid Length net. Based on the length of the net opening, I know it was over 20 inches, possibly over 22. Unfortunately, before I could reach for my camera, with one mighty flip it was back out of the net. I like barbless lures because they often come out by themselves when a fish is in the net. When this particular fish flipped out of the net, it left the lure behind, so there was no getting it back. Long story short, the Shimano Trout One NS is capable of landing very nice fish.

King of the Stream!
The fish shown above, although much smaller than "the one that got away,"  was still a very respectable fish given the size of the stream where it was caught. Although the occasional much larger than expected fish gets the adrenaline flowing, it isn't big trout - or even trout - that makes spin fishing in small streams addictive. It is the required combination of stealth, casting accuracy and yes, finesse.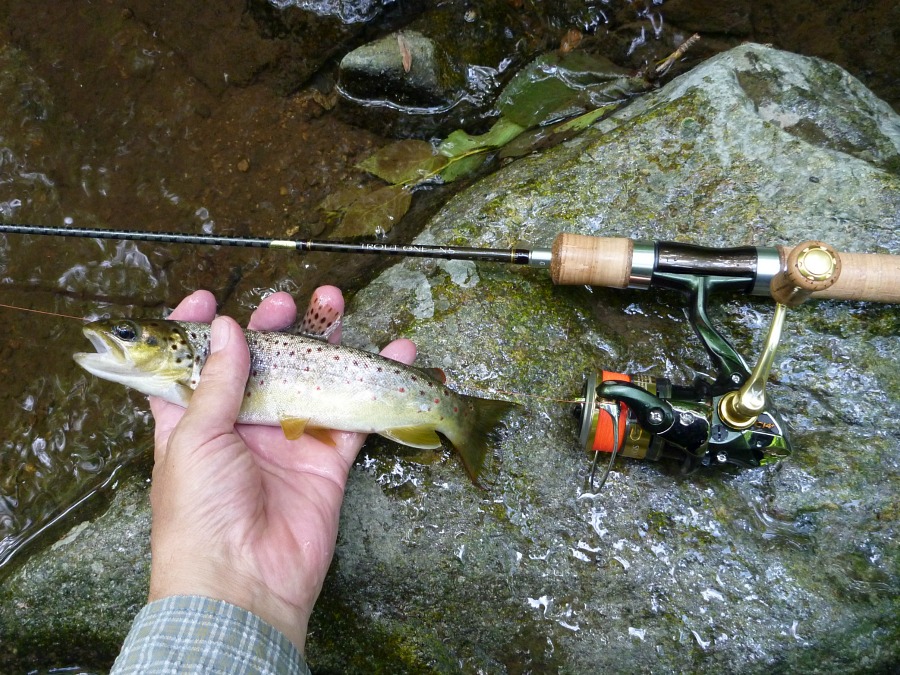 A more common small stream trout.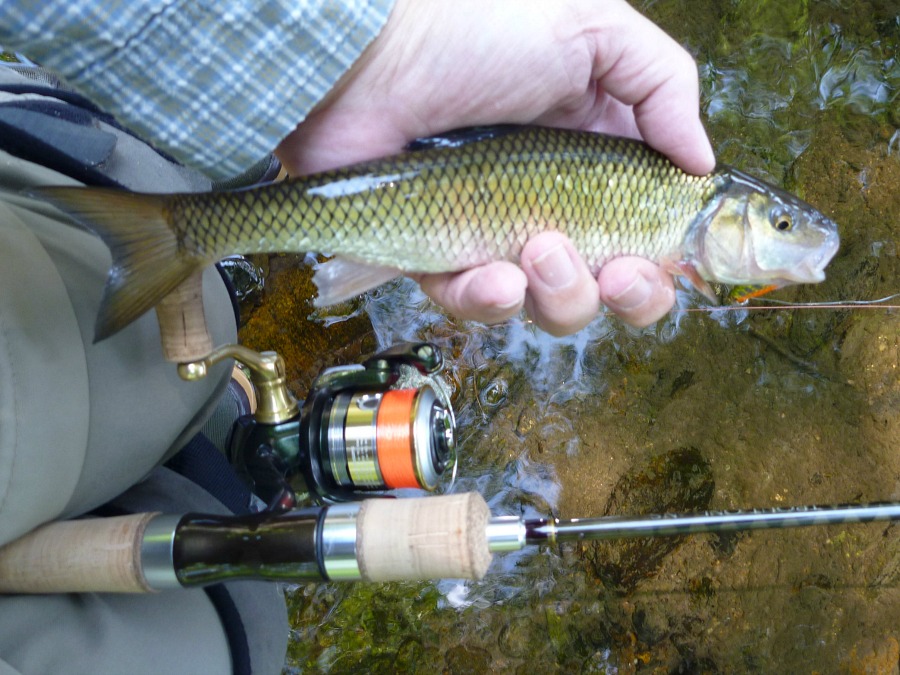 Fallfish (and creek chubs) take spoons, too!
I have a friend who is considering starting a guiding business aimed at spin fishermen rather than fly fishermen. Most fishing guides in mountain states are fly fishing guides. However, most people who fish don't fly fish. I'm sure a lot of people who visit the Rockies would love to wet a line if they could fish a beautiful mountain stream, catch some fish, maybe learn some new tricks, and not feel that the guide was condescending because they use a spinning rod instead of a fly rod. I hope my friend pursues his dream. I'm sure it would be well received.
I think the Shimano Trout One NS S53UL would be an excellent choice for his business. Clients will recognize that it is a nicer, higher quality rod and better suited to stream fishing for trout than the rod they have now (assuming they don't have a Tenryu, of course). The Shimano is much more affordable for a beginning guide business than the Tenryu, though. Like a Tenryu, it fits in the Long Rod Case, so a bunch of rods in the back of his truck will still be protected. For that matter, even if you fish for fun rather than as a business, the Shimano Trout One NS S53UL would be just as much at home in the back of  your truck!


Quality cork and a CI4+ reel seat
The grips are good quality cork. The reel seat is Shimano's CI4+ material, which is a light weight, rigid carbon composite.
I think the Shimano Trout One NS S53UL is an excellent rod. It is not as fancy as the Tenryu, but if you are looking for a high quality JDM spinning rod in the $200 range, I think you would have a hard time a finding better one.
Shimano Trout One NS

Model
Type
Tip
Length
Sections
Breakdown
       Length
Rod Weight
Line Weight
Lure Weight
Price

S53UL
Native (stream)
Tubular
5'3"
2

32 1/2"
2.6 oz
2 - 6 lb
1-7g (1/32-1/4oz)
Lockdown Sale $150
Originally $190
Made in China
---

Gap between sections
Please note: when you put the sections together there will be a gap. It is supposed to be that way. Don't force it.

---
Shipping
Domestic shipping is $10 via USPS Priority Mail (2-3 day delivery).
Please note: All packages are shipped via USPS. If you have a PO Box, please list ONLY the PO Box in your address, not the PO Box and your street address.
The charge for international shipping depends on the destination country, the weight of the package, the overall length of the package and the value of the package. Packages under 24" long and under $400 in value will go via USPS First Class International. Packages over 24" or over $400 will go via USPS Priority Mail International. The International shipping charge will be calculated at checkout.

Import Duties and Taxes

International purchases may be subject to import duties and taxes. I cannot keep track of all import regulations in all countries written in all languages. Understanding and paying import duties and taxes is the responsibility of the buyer.
Finesse-Fishing.com no longer ships to the UK. The new VAT regulations are too onerous for a one-man shop that rarely ships anything to the UK anyway. I apologize.
---
The hooks are sharp.
The coffee's hot.
The fish are slippery when wet.
---