Covid-19 Announcement
Most international flights have been cancelled.
There is no ETA for out-of-stock items that come from Japan.
Shipments to overseas buyers will take longer than normal - possibly much longer. Patience is a virtue - especially in fishing.
---
Tenryu Rayz RZ39LL
The RZ39LL is for the headwaters  and for streams that are narrow and choked with brush.  The design goal for this model was a rod that allowed quick pinpoint casts, often sidearm or underhand as conditions required. The rod was designed to cast small plugs in a wide range of weights, and to have sufficient power in the butt section to handle 12" trout despite having a very short, very slim blank. The LL designation is between light and ultralight.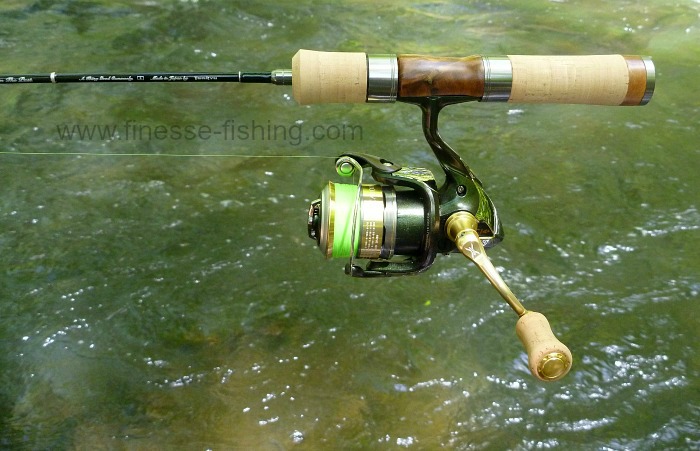 Tenryu Rayz RZ39LL with Shimano Cardiff CI4+ C2000HGS
I have to say that I am very, very impressed with the Tenryu Rayz RZ39LL. This has become my small stream rod! Actually, before seeing the RZ39LL I didn't realize there were rods specifically designed for really small streams.
You'll see a lot of recommendations for a 6' spinning rod for trout fishing. I guess those guys just fish lakes. If you fish (or want to fish) streams that are small enough that no one else fishes them (despite the fact that the fish are numerous and hungry) you know or will soon learn that a 6' rod is just too long to make the kind of casts you need to make on a small stream. For the smallest streams (which get the least pressure) there won't always be room for a 5' rod! You'll often have to cast under overhanging branches. An underhand cast with a short rod may be the only way to get  your lure where it needs to go.
The brookies are there. Can you get your cast in there?
There are a few things going for the Tenryu Rayz RZ39LL: 1). The short length makes it easy to cast even in very close quarters. 2). The broken down length is short enough to fit in one of the Medium Rod Cases I offer on the TenkaraBum.com website - making it almost as convenient to carry when backpacking as the four-piece Tenryu Rayz Integral rods. 3). It can cast lures as light as 1 gram, the same as the RZ53UL. 4). It can cast as far as you would need to cast on a small stream. On a river you might want greater casting distance, but on a river you would have room for a longer rod. The RZ39LL is a small stream rod, but for a small stream it is just ideal!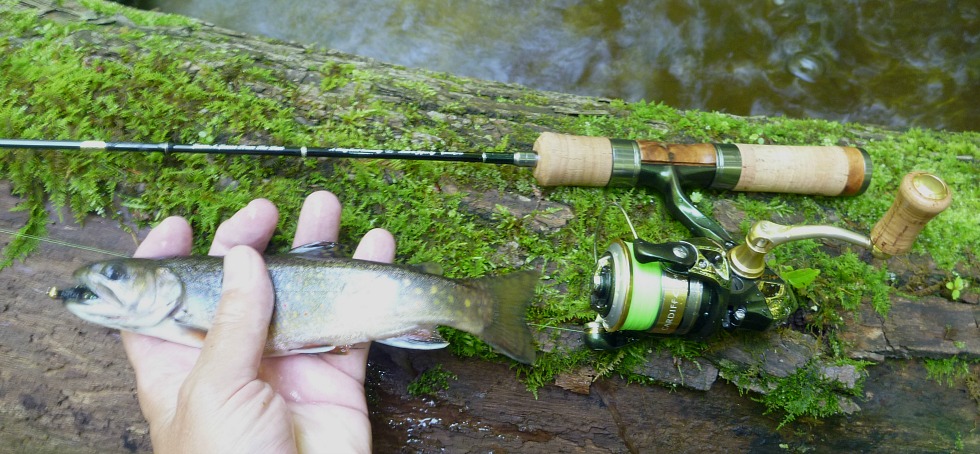 Tenryu Rayz RZ39LL, brookie and bead head bugger.
A friend I fish with from time to time specializes in following the "thin blue lines" for little wild brook trout. This rod would be ideal for that! It is rated for lures as light as 1 gram.  It turns out that with a light line, the rod can cast a bead head woolly bugger, which weighs considerably less than a gram. You cannot cast far, but on a small stream you can cast far enough. That's what took this brookie.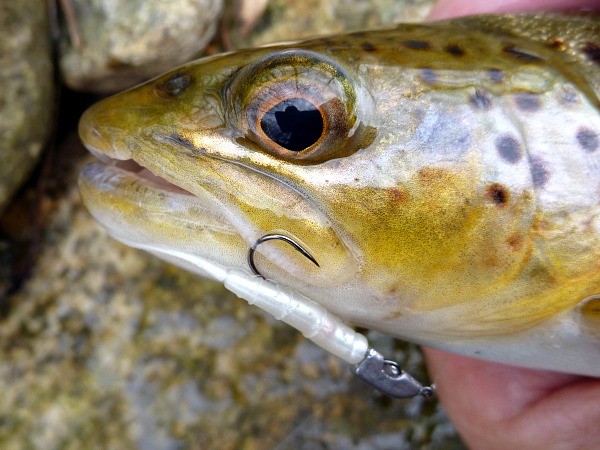 Cultiva .7g JH-85 and Cultiva 1.3" Pinworm
Most small streams have at least a few pools that are deep enough but also small enough that they would be easier to fish with a Cultiva JH-85 jighead and 1.3" pinworm (above) rather than spinner, spoon or even diving plug. Together, the jighead and pinworm weigh exactly a gram, which the RZ39LL will cast as far as needed on a small stream. Plus as I found out (Trip Report 4-22-17), the trout love them!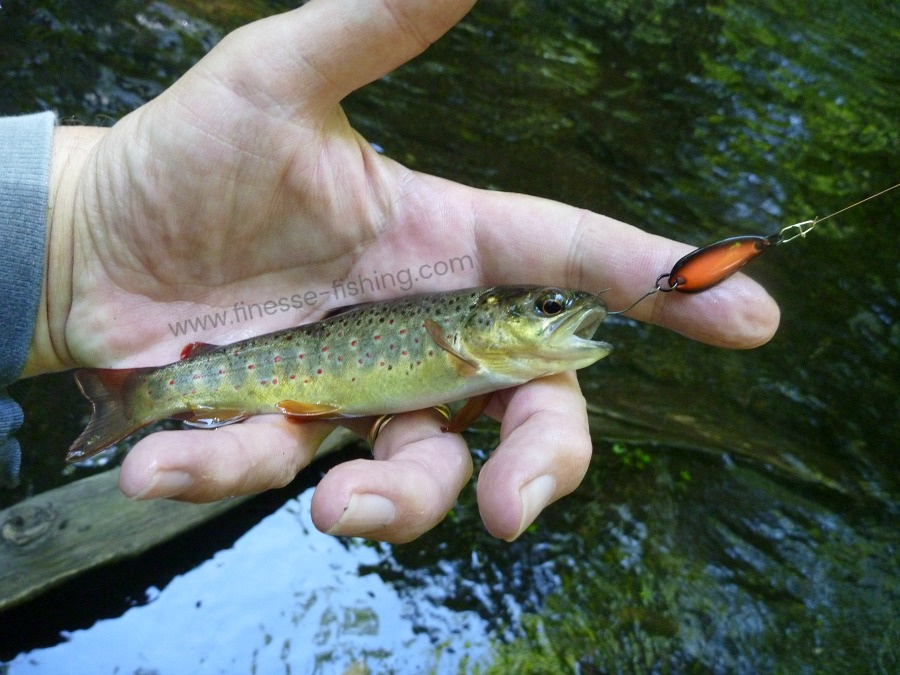 Little brown trout caught with 1.2g micro spoon.
The RZ39LL also does very well with 1.2 gram micro spoons, which I think trout love even more than the micro jigs! The rod is rated for lures up to 8 grams, so if you would rather fish with the 50mm, 4.5 gram heavy minnow plugs so popular in Japan, the rod will do just fine with them (and a 50mm sinking minnow is NOT too big for 6-8" trout!)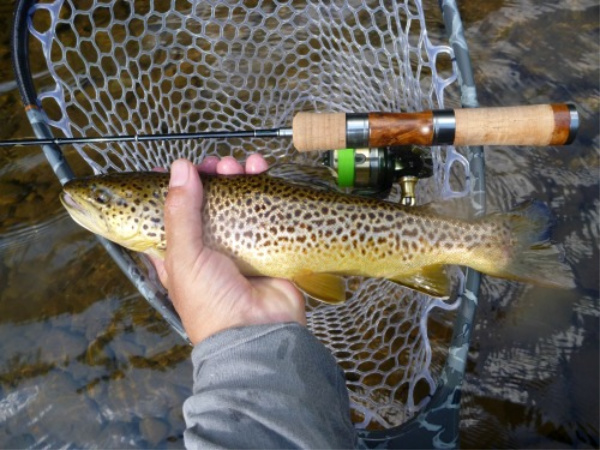 NOT my biggest fish on the RZ39LL!
The Tenryu Rayz RZ39LL as a rod for small streams, where the average fish might be a 6" brookie or an 8" brown. If you happen to hook a much larger than expected fish, though, the rod can handle it. The Tenryu catalog says the rod is capable of handling 12 inch trout. I can tell you that I have caught much larger fish with the rod (and larger than the trout shown above) with no problem whatsoever. You do need a reel with a good drag, but the rod can handle any fish you'll hook in a stream small enough that you would want to fish a 3'9" rod!
Speaking of a reel with a good drag, I think most spin fishermen set their drag at a level to protect their line. When fishing with rods designed for small stream trout, like the Rayz RZ39LL, you should set the drag to protect the rod. I recently received an email from a guy who broke his RZ39LL on a 20 plus inch rainbow, while fishing with 4 lb line. Now, I have caught fish of about that size with an RZ39LL, but that is not what the rod was designed for. I wasn't with him at the time, but I suspect his drag was set too high. If you've ever had to break off a snag when fishing with 4 lb line, you have an idea of what it takes to break the line. If you try to break the line by pulling your rod to the side, putting a huge bend in it, I suspect most small stream UL rods (from any manufacturer) will break first. That is exactly the situation you would face trying to fight a very large fish with your drag set too high.

The Tenryu Rayz RZ39LL has been discontinued. For 2020, the shortest Rayz will be 4'10", which is a nice length, but is not as convenient for really tight headwaters streams. A few of the RZ39LL remain in stock, but when they're gone I will not be able to replace them.

Tenryu Rayz RZ39LL Specs
The Tenryu Rayz series have titanium frame K guides with SiC rings, cork grips and hardwood reel seat insert and accent spacer.
Model                             RZ39LL
Type                               Wild (stream)
Length                            3'9"
Sections                         2
Breakdown Length      23 1/4"
Rod Weight                   1.8 oz
Line Weight                   1 - 5 lb
Lure Weight                  1-8g (1/32-1/4oz)

Tenryu Rayz RZ39LL - $232
(20% off regular price)

While supplies last.

---
Shipping
Domestic shipping is $10 via USPS Priority Mail (2-3 day delivery).
The charge for international shipping depends on the destination country, the weight of the package, the overall length of the package and the value of the package. Packages under 24" long and under $400 in value will go via USPS First Class International. Packages over 24" or over $400 will go via USPS Priority Mail International. The International shipping charge will be calculated at checkout.

---
Warning:
The hooks are sharp.
The coffee's hot.
The fish are slippery when wet.
---