Trip Report - Maine Vacation 2017

For something like thirty years now, a good friend and I have gone to central Maine the first week of June for smallmouth bass fishing. For almost all those years, at least until I started importing tenkara and keiryu rods in 2012, I fished with ultralight spinning gear. This year's trip was the first since 2012 that I again took spinning rods.
Although I did take a tenkara rod and a couple keiryu rods, the main (work related) purpose of the trip was to fish with a number of different JDM spinning rods to get a better sense of the subtle and not so subtle differences between stream and "area" rods, and between both of those and the ultralight salt water rods. The ultralight salt water rods are interesting pieces of equipment, and truly, someone in Kansas or Nebraska who never has and never will fish salt water could very well decide they are exactly what he needs for where and how he does fish.
Freshwater Rods

Although I think I caught fish with all the rods I took to Maine, some were a lot better suited to the task at hand than others. To set the stage, we were fishing a large rocky lake from a boat, and generally fishing from shore out to depths of perhaps eight feet. Some of the fish were on beds, some weren't. Most of the fish were 14-16 inches.
Tenryu RZ53UL-BC rod, Shimano Aldebaran BFS XG reel, Sunline Troutist Wild 3# line.
I started out with the Tenryu RZ53UL-BC paired with a Shimano Aldebaran BFS XG. Although it's an ultralight trout rod, it had no problem at all with 16-18" smallmouth.  The RZ53UL spinning rod, which is constructed on a blank that is very similar, if not actually the same as the RZ53UL-BC, is described by Tenryu as having a butt section that is powerful enough for fish over one foot in length. I can assure you that is an understatement.
Tenryu rates the RZ53UL-BC for lures down to 1 gram, essentially 1/32 ounce, I'm not yet good enough with a baitcaster to fish with 1 gram lures. I did spend quite a bit of time fishing with the C'ultiva 1.7 gram JH-85 jig heads and C'ultiva 1.3" Pinworms, which together weigh 2 grams.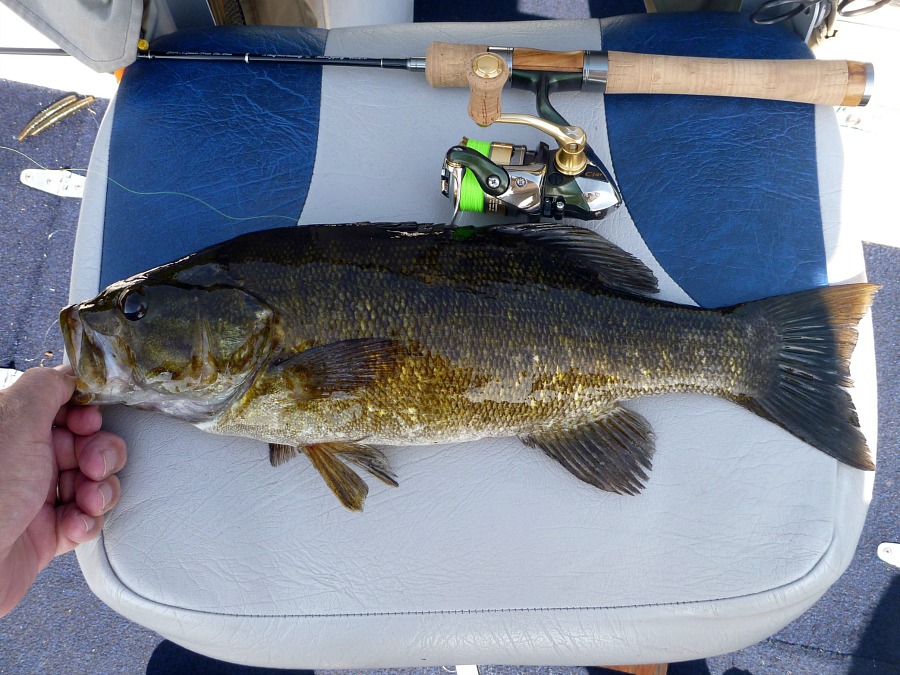 Tenryu Rayz RZ53UL rod, Shimano Cardiff CI4+ C2000HG reel, Sunline Troutist Wild 3# line.
The Tenryu Rayz RZ53UL, when paired with a Shimano Cardiff CI4+ C2000HGS, cast anything I wanted to throw, including the .7g JH-85 and 1.3" Pinworm (which together weigh exactly one gram). Like its baitcasting brother, it handled 17" fish with no problem. 
I suspect most people fishing a large lake from a boat would choose a longer rod. The 5'3" RZ53UL and RZ53UL-BC worked just fine. I never felt the need to cast into the next county.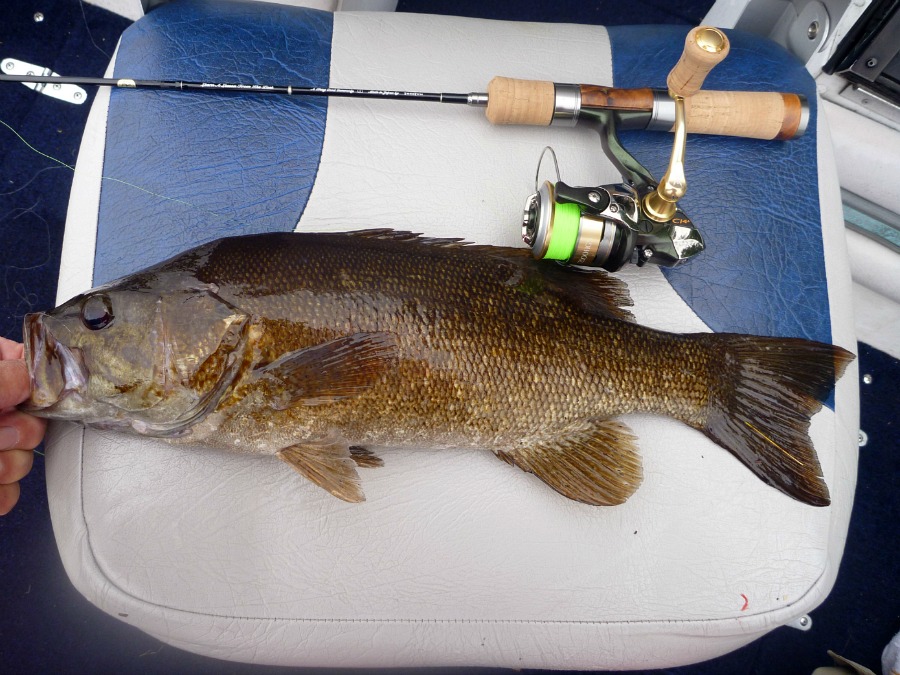 Tenryu Rayz RZ39LL rod, Shimano Cardiff CI4+ C2000HG reel, Sunline Troutist Wild 3# line.
When I mentioned early on that some of the rods were better suited to the task at hand than others, this is one of the "others." The Tenryu Rayz RZ39LL is just 3'9" long. It is obviously neither a lake rod nor a bass rod, but I had to try it. It worked just fine. The boat seat, from edge to edge is about 17 1/2", so the rod can clearly handle fish larger the 12" Tenryu claims in its catalog! The Shimano reel has a good drag, and there was quite a bit of back and forth, but the rod won.

Although the rod was a bit out of place in a boat on a big lake, it would be just ideal for tiny streams (the ones that are so tiny or overgrown that no one fishes them, but which have fish, sometimes surprisingly nice fish - because no one fishes them). I know from the feedback I get on my TenkaraBum website that there are more than a few people who delight in finding and following the little blue lines on the map, and catching the wild brookies or rainbows or browns that live in them. The Tenryu Rayz RZ39LL is just the rod for them.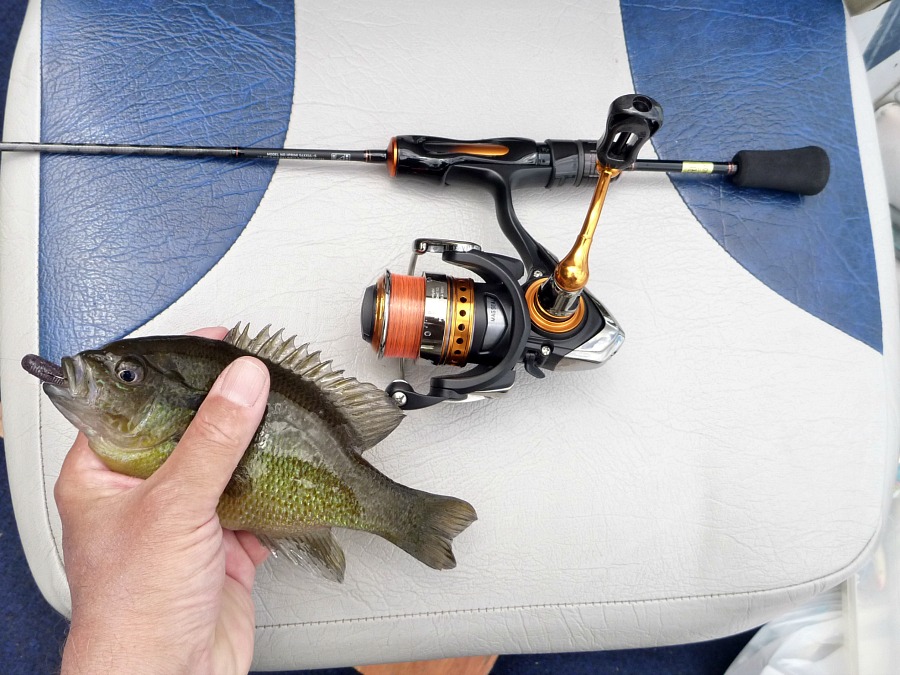 Daiwa Iprimi 56XXUL-S rods, Iprimi 1003 reel, Sunline Area Meister 3# line.
Another rod that truly isn't a bass rod and probably should not be used when the next cast could hook a 3 or even 4 pound smallie is the Daiwa Iprimi 56XXUL-S. The 5'6" extra, extra ultralight, solid tip rod is just an ideal rod for sunfish, though. It is rated for lures as light as .4 gram. I didn't try it, but the rod should be able to cast a C'ultiva Ring Kick Tail without a jig head. I fished the rod with a 2" Senko and no jighead, and I am sure I could have gone lighter!
For smaller fish, no spinning rod I know of is more fun.

Daiwa Iprimi 65L-S rod, Iprimi 1003 reel, Sunline Area Meister 3# line.
The Daiwa Iprimi 65L-S, like the 56XXUL-S, is an "Area" rod, designed for fishing lakes, where current obviously is not an issue and where logs, rocks and other snags are not nearly the issue they are in streams. Area rods tend to be softer and more full flex, and the Iprimi rods are no exception. Although this is a "light" action rod rather than "extra, extra ultra light", and thus is a more capable rod, it is still a soft, full flex rod better suited for trout or sunfish than for bass.

Shimano Trout One Area Special 66XUL-F, Daiwa Iprimi 1003 reel, Sunline Area Meister 3# line.
Shimano rods have different actions than the Daiwas, or perhaps to be a bit more precise, the Shimano rods I have fished with have different actions than the Daiwa rods I have fished with. Both companies have rods - even ultralight trout rods - that I have not fished.
The Shimano Trout One Area Special rods are more tip flex than the Daiwa Iprimi rods, and have firmer midsections. The firmer midsection does give a bit more control over fish, but in a rod rated for a maximum of 4# line, the emphasis should be on "a bit" rather than "more control."

Shimano Trout One Native Special S60UL rod, Shimano Cardiff CI4+ C2000HG reel, Sunline Troutist Wild 3# line.
The Shimano Trout One Native Special rods are firmer overall and they do give significantly more control. Designed for fishing streams, they have the backbone necessary to fight fish in current and keep them out of snags.
Saltwater Rods

The Japanese have a class of rods that we don't have here: ultralight salt water. It may sound like an oxymoron, but they fish for two types of fish with rods rated for lines as light as 1.5#. "Ajing" rods are designed to catch Aji (horse mackerel in English), which are only about 10" long so heavy gear is not required.
The "Mebaru" rods are mid flex rather than tip flex, and they are a bit beefier than the Ajing rods, but only a bit. They are designed to catch several species of fish that are generally called rock fish in English (but are NOT the rock fish of the Cheseapeake Bay) which may get to a couple pounds.
Daiwa Gekkabijin Ajing 71UL-S rod, Daiwa Iprimi 1003 reel, Sunline Area Meister 3# line.
Ajing rods are very fast, incredibly sensitive rods. They are designed to transmit the feel of a strike where the fish takes the lure from behind and then continues to swim directly toward the angler. There is no pull or even bump. The only indication of a strike is that the resistance that the lure had caused as it was retrieved suddenly goes away. The rod has to allow you to feel the resistance of a 1/32 oz bullet-shaped jig head, and also feel the difference when that resistance is no longer there. That has to be a sensitive rod!
And they are sensitive! The Daiwa Gekkabijin Ajing rod clearly transmitted the hit when this 4" smallmouth hit the .7 gram jig! I wouldn't say he slammed it, but it was not subtle!

Daiwa Gekkabijin Ajing 71UL-S rod, Daiwa Iprimi 1003 reel, Sunline Area Meister 3# line.
The rods are capable of landing larger fish. The Gekkabijin Ajing 71UL-S is rated for lines no stronger than 3#, so the fish aren't going to be a lot bigger. If you are looking for an extremely fast, extremely sensitive rod, though, (particularly for sunfish) do take a look at the Ajing rods.

Daiwa Gekkabijin 76L-S rod, Shimano Cardiff CI4+ C2000HG reel, Sunline Troutist Wild 3# line.
Mebaru rods are beefier and not nearly as fast. The Daiwa Gekkabijin 76L-S is rated for lines up to 5#, and felt like it could handle any bass I've ever hooked on my Maine vacations, as well as any trout I've ever hooked in my life. I have heard them described as being good crappie rods - sensitive enough to transmit the feel of the bite but not so fast that they would pull the hook out of a a Papermouth's mouth.
Being more of a trout angler than a crappie angler, I see the Mebaru rods as being a good choice for people who want a longer rod for for fishing larger streams, and want a slightly softer rod for drifting bait or light jigs rather than fishing hardware.
Of all the rods I took to Maine, the Daiwa Gekkabijin Mebaru rod was the closest to feeling like a bass rod. It had all the length you would want for fishing from a boat and had more than enough backbone for landing any of the smallies I've ever hooked. The largest this trip was a bit over 18", but I have caught larger ones in prior years.

I don't a carry bass rods, which all seem to be one piece rods. I don't have room to store the shipping tubes that would be required to mail them. For a rod that can handle bass, though, this one is worth a look.

Lures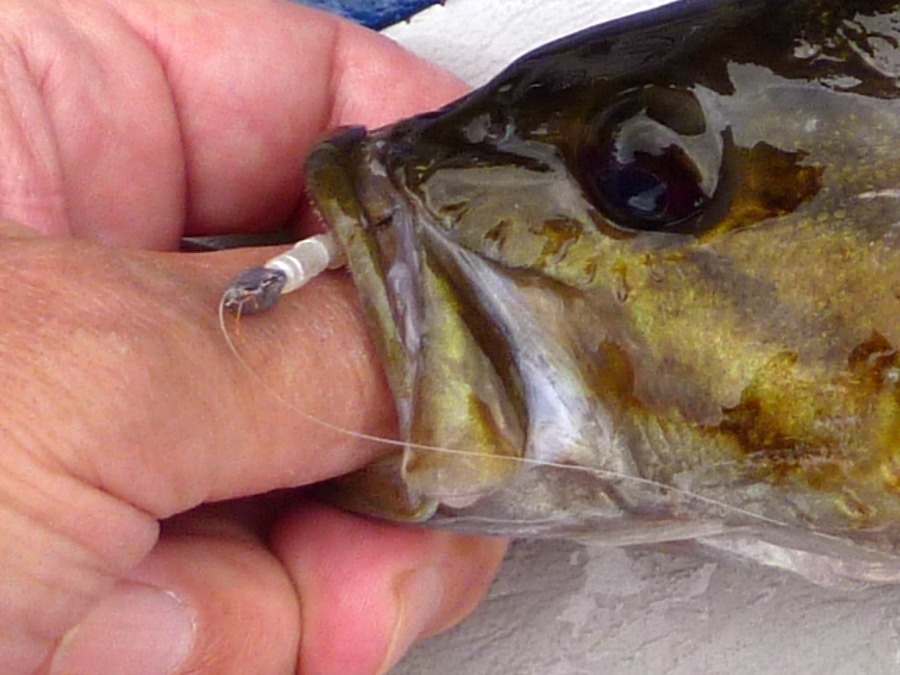 C'ultiva JH-85 jighead and C'ultiva Pinworm.
I find it interesting how the "go to" baits my friend and I use have changed over time. We both started out fishing primarily with the original Rapala floating minnows (model 07, 2 3/4"), then switched to Sluggos and then Senkos. He generally fishes the 5" length, while I started with 4" then the 3" fat and finally the 2" size (before switching entirely to flies in 2012).

The Shimano Soare Momoaji plastics worked just as well as the C'ultiva Pinworms.
Overall, I think we've caught about the same number of fish, so size might not really matter. This year, with the small jig heads and small Pinworms (either 1.3 or 1.7")  or the Shimano Soare Momoaji, I still managed to keep up with him. At least for smallmouths, small baits work!
JH-85 Jig Head and 2" Senko
Because I still have a pretty good supply of 2" Senkos left over from earlier years, I just had to try them, too. I have to tell you that they worked pretty darn well. Of course, they've been discontinued for so long that even the overstock places are out of stock. If you still have some in the bottom of your worm box, though, dig 'em out. They work very nicely!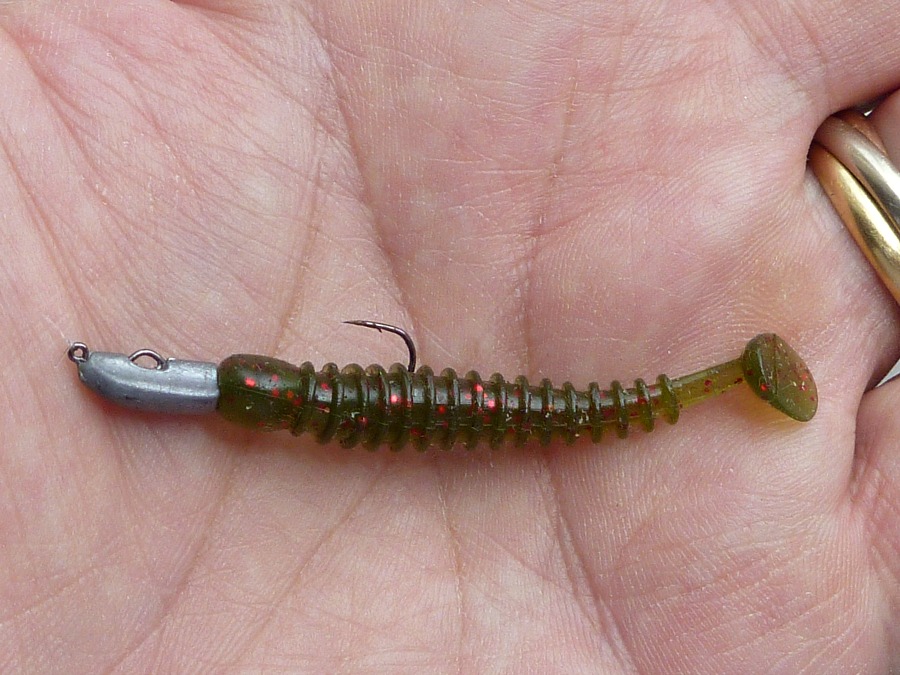 JH-85 Jig Head and Ring Kick Tail
Of course, the C'ultiva Ring Kick Tail also works and is NOT discontinued.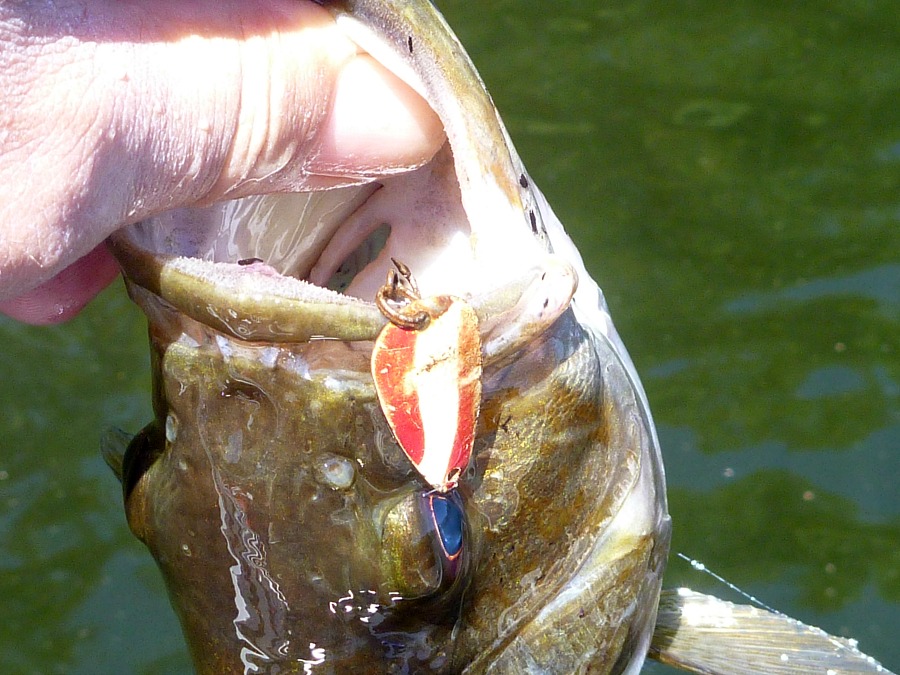 Spoons work, even old rusty ones.
For some time I've been thinking of getting some of the Japanese spoons, which are used in streams but seem to be much more popular in "areas" (stocked pay-to-fish lakes). The only spoon that happened to be in the box I took to Maine was this old Dardevle, which was so rusty that every one of the three hooks broke off trying to unhook the poor bass. I did successfully remove all the broken hooks before releasing the fish. Despite being old and rusty, the spoon still worked (once).
Very recently, well after having returned from Maine, I received my first order of the Japanese spoons. I must say I am very impressed. I'll try to get a report on them done shortly.

---
The hooks are sharp.
The coffee's hot.
The fish are slippery when wet.
---